Eric Qualman's talk in Atlanta earlier this month got me thinking some more.  I started to play with words: "social media," "social network," "networking"…what did it all mean?  Interestingly enough, after a while the words themselves revealed a pattern.  Here are my notes on hotel stationery which I'd like to share with you.
Let me show you with an all-too-LA example: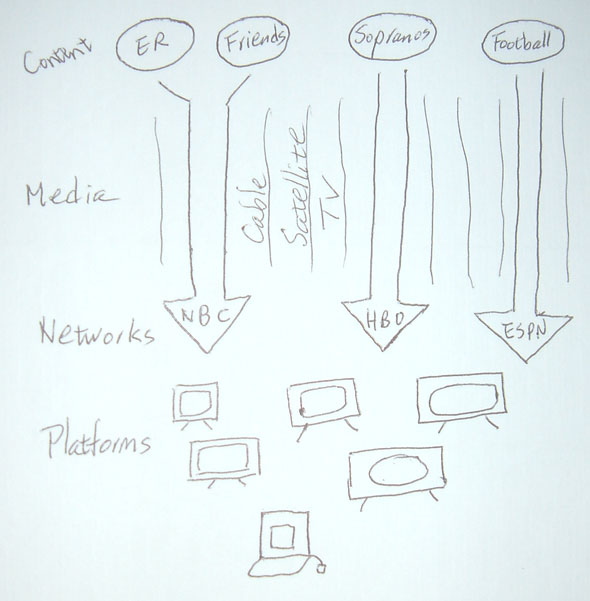 In the age of television,
media was how content was transmitted: cable, satellite
content was the shows
networks like ABC, NBC, HBO, and ESPN bundled the content and broadcast them over media to viewers, who used
platforms to view the content.  The most common platform was the TV, and then later VHS (remember those?), DVD's, TiVO, and now Hulu showed up.
And networking was the act of gathering up content for distribution.  Power breakfasts at the Peninsula Beverly Hills, next to the old CAA building.
So what does it look like today in the social media world?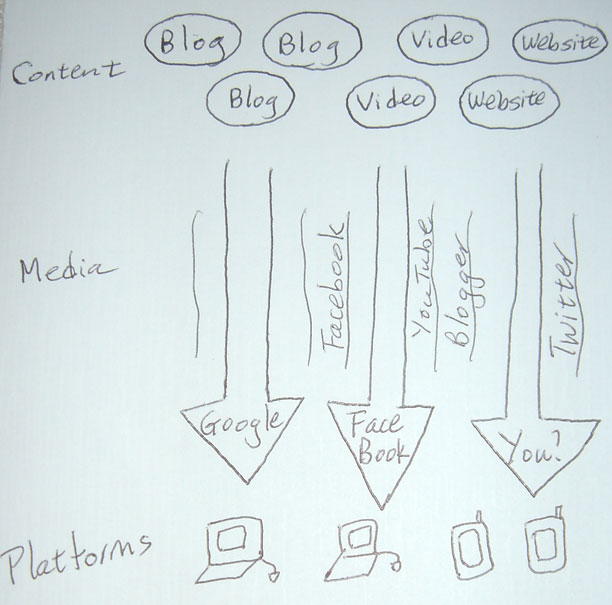 Today, we have:
Media Twitter , Blogger, WordPress, and Facebook
Content are all the blogs, tweets, videos out there
Platforms are the PC's, iPhone's, Blackberrys, and tablets we're using to play the content
And now: networks are still the aggregators of the content.  Google does it with search.  Facebook does it with the friends network.  But anyone can do it in this day and age — even you.  Just start gathering up the content I'll like and broadcast it on your blog, Facebook page, or Twitter, and I'll join your network.
networking with all the bloggers, twitterers, and movie makers (or open source projects) out there.
What Does It All Mean?
We all want to make a big splash by coming up with the next Facebook or iPhone.  But if you look at the history of TV, you'd realize that most of the money was made by the content producer (like Aaron Spelling) or networks (think Ted Turner), not by the providers of media (Adelphia?) or makers of platforms (Zenith.)
I think the same will be true of the new social media world.  Ten years from now, we'll be glad to have our iPhones and tablets and use Facebook and Twitter, but what makes our lives better day in and day out–and what we will pay for day in and day out–will be great content producers and the networks, big and small, which gather them for us.
What Does This Have to do with Open Source?
Actually, everything.  But let me save that for a future post.