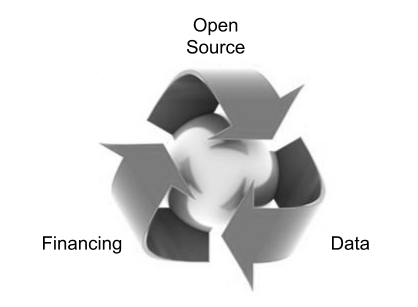 We believe data is the key to opening up clean energy finance.
We're creating a virtuous cycle where open source software creates data on clean energy projects.  Data then unlocks financing for clean energy.  Financing then supports the development of open source software. 
The clean energy transition will require $5 trillion in funding.
Let's get to work.
Open Source
Even though improving building energy efficiency is the most cost-effective way to reduce greenhouse gas emissions, most commercial buildings in the US have no energy management system software.
Open source software solves two big problems at once: It makes technology for improving energy efficiency freely available, and it makes it possible for many energy users to gather data about their energy use and energy efficiency projects.  That, in turn, makes it possible to finance energy efficiency at scale.
Our open source opentaps Smart Energy Application Suite (SEAS) helps you analyze energy data and build a track record of proven financial value for your clean energy and energy efficiency projects.  Click here to learn more.
Finance
New clean energy technologies are coming to the market faster than investors and building owners could get up to speed on them.  This is especially the case since many technologies require interacting with the grid, and their values are based on the utilities' rate schedules.
We believe the key is to model these technologies as financial transactions and study their results just as we would with investment or trading strategies.   We specialize in data-driven financing for dynamic strategies, such as building commissioning, load management, and time of use arbitrage.    
Do you have projects with measureable and verifiable value?  If so, contact us to finance them for you or your customers, or click here for more details.